SEATTLE -- A car crashed into a hair salon on Seattle's Rainier Avenue South Thursday afternoon, injuring seven people and cracking the building.
Police say they don't know why the woman driving the SUV lost control. The SUV crashed through the Carol Cobb Salon on Rainier Avenue South and into an adjoining restaurant. It plowed through tables, chairs and somehow avoided customers. But it pinned a mother and child behind a wall of debris. Then, for some reason, small fires broke out.
People inside the Greek restaurant and some people in the salon suffered burns. All the injuries were considered minor. It could have been worse if not for the quick actions of witnesses.
'Everybody started running to go help and get the fire extinguisher to help put out the fire,' said one witness.
'It was smokey, you couldn't see your hand, but we just kept pulling debris because we heard there was a kid in the car, two kids in the car,' said another witness.
Firefighters say six people were transported to Harborview Medical Center, including three people who were pinned inside the SUV.
Once the people were rescued, Firefighters focused on the building and the rapidly expanding cracks on the exterior walls. Fire crews set up a collapse buffer around the building and used metal rods to keep it from sagging.
The owner of the historic building worries she may never be able to use it again.
'We just had went through a total remodel with Aveda and remodeled the whole salon, so to see this is like totally devastating,' said Carol Cobb, building owner.
Engineers are assessing the stability of the building. The building owner says the salon was hit about 10 years ago, but no serious damage was done.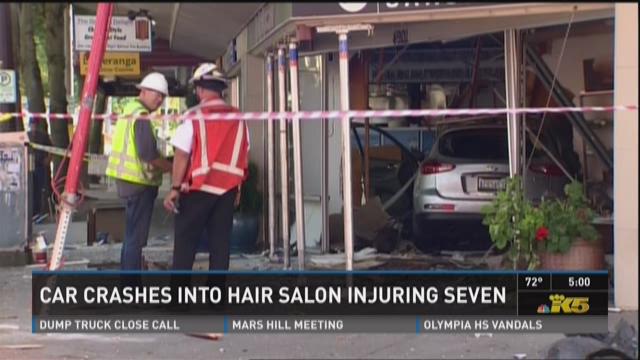 Read or Share this story: http://www.king5.com/story/news/local/seattle/2014/08/28/6-injured-car-crash-seattle-rainier-avenue/14755829/